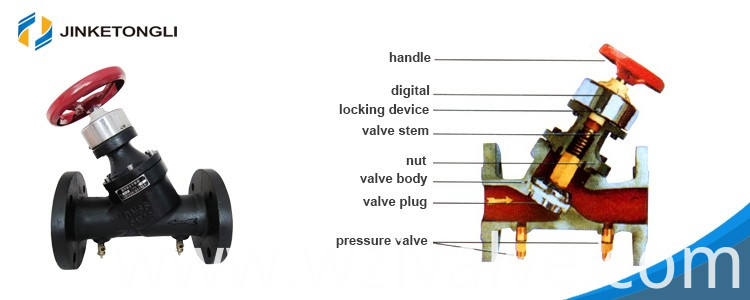 | | | | | |
| --- | --- | --- | --- | --- |
| DN(mm) | L | D | D1 | N-φdl |
| 20 | 100 | Rp 3/4 | | |
| 25 | 120 | Rp1 | | 4-φ14 |
| 32 | 180 | 135 | 100 | 4-φ18 |
| 40 | 200 | 145 | 110 | 4-φ18 |
| 50 | 230 | 160 | 125 | 4-φ18 |
| 65 | 290 | 180 | 145 | 8-φ18 |
| 80 | 310 | 195 | 160 | 8-φ18 |
| 100 | 350 | 215 | 180 | 8-φ18 |
| 125 | 400 | 245 | 210 | 8-φ18 |
| 150 | 480 | 280 | 240 | 8-φ23 |
| 200 | 492 | 335 | 295 | 12-φ23 |
| 250 | 622 | 405 | 355 | 12-φ25 |
| 300 | 698 | 460 | 410 | 12-φ25 |
| 350 | 787 | 520 | 470 | 16-φ25 |
Advantage
1. Excellent adjustment performance.
2. Excellent cut-off function.
3. Accurate to the 1/10 circle of the number of open loop display.
4. The theoretical flow characteristic curve is equal to the percentage (approximate) characteristic,
when the valve weight is 30-50%, the actual flow characteristic is linear.
5. With the opening of the lock function, non property management personnel can not change the state.
6. The pressure and flow can be adjusted easily and effectively, and the intelligent instrument
can display the working pressure difference and flow rate, guide and record the balance adjustment plan.
7. PTFE seal, sealing performance, reliable, long life.
8. According to the percentage of its opening and the pressure difference before and after the valve can
be calculated through the flow of the valve.
9. Internal components with stainless steel, copper alloy manufacturing, strong corrosion resistance.
10. Within the lifting of the valve does not need to set aside the operating space.